Introduction
This project surveys the work of James McNeill Whistler in oils and mixed media, and is augmented by a summary catalogue of his works in watercolour, pastel and drawing. Our wider aim is the online publication of Whistler's work and writings. This project builds on, and links to, the catalogue raisonné of Whistler's etchings and his correspondence.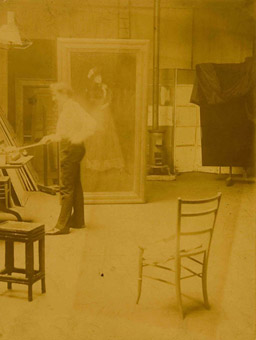 Photograph of Whistler in his studio, Fulham Road, 1886/88 (Glasgow University Library, Whistler PH1/120).
The Work of James McNeill Whistler (1834–1903)
The American born artist James McNeill Whistler was a major figure in 19th century art; his work, as painter, printer, and theorist, was widely influential to a younger generation of artists on several continents. He was an important contact between the art worlds of Europe and America.
His paintings show the influence of various movements including Realism, Impressionism and Symbolism, and artists such as Rembrandt, Velázquez, Ingres, Courbet and Manet. However, there are more surprising connections, for instance in the early copies done by Whistler in Paris, including Jules-Claude Ziegler's La Vision de St. Luc, now in The Hunterian).
His total output was considerable: over 550 paintings in oil and mixed media; 490 etchings and drypoints, 1800 works on paper – drawings, pastels and watercolours - and 179 lithographs, lithotints and mezzotints. Furthermore there are multiple impressions of the lithographs and etchings – as many as 10,000 impressions of the etchings are recorded, most printed by the artist.
We have included sketches and unfinished works as well as completed and much exhibited paintings such as the famous portrait of his mother: these reveal his technique and work processes. We also include work that is missing but was recorded in his lifetime, so that the full record of his output is represented.
His work was exhibited widely, particularly in Europe and America, and eagerly sought by art dealers and collectors. The study of collecting, from art dealer and exhibiting body to collectors and museums is exceptionally well documented in the case of Whistler; the history of his works bridges the art market on both sides of the Atlantic. He also published letters, pamphlets and books on art, and wrote thousands of letters to a wide range of correspondents. These document and illuminate the history of the creation and marketing of his work.